Did this just signal the final days of the Trump rally?
Something extremely significant happened last Friday…
…and not a single mainstream media teleprompter-reading reporter talked about it.
There was significant action in the bond market that could throw a monkey wrench in the entire Trump rally.
Looking at the charts won't tell you a thing either.
This goes much deeper.
Behind the curtain.
While I normally discuss the S&P 500 futures market with you, and how it predicts future price movements with a high degree of accuracy – the bond market is also predictable.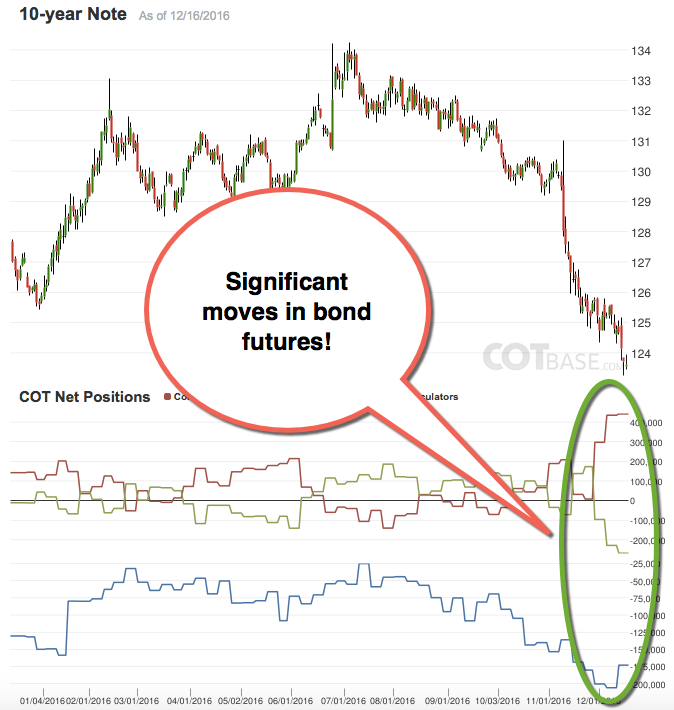 Chart courtesy cotbase.com
What I didn't discover until recently is that you can apply the same principles behind my Smart Money Indicator to predict whether bonds will go up or down.
Related: You can read about those principles in this report >>
It's like the "check engine light" in your car – if everything is normal, you stay invested.
If the light flashes a warning, you better take action before your portfolio breaks down.
Well, that light is flashing.
If you're a take-charge kind of person, then this might be the time to grab the steering wheel and take control of your portfolio.
This Friday could be the most important day of the year.
It's the day where you get to pear behind the curtain and discover how Wall Street's players have positioned themselves after December's futures expiration.
In 2008, just a couple weeks after December's futures expiration, I issued – in real time, not hypothetical — my most important bear market signal for stocks ever.
Judging by the action behind the scenes in bonds, we might see something similar.
That's why I've decided to do something crazy to make joining me a no brainer.
I'm giving away an entire year of Smart Money Indicator signals for free.
Plus, I'm giving away a copy of my report, Winning in the Stock Market: How to Spy on the Secret Trading Moves of Wall Street's Moneyed Elite.
Inside the report, you'll discover the secret sauce behind my Smart Money Indicator.
Click here to claim your free year + bonus report before Friday'sevent.
Trade smart,
Dan "Prince of Proof" Murphy